sustainable teaching
IS WITHIN REACH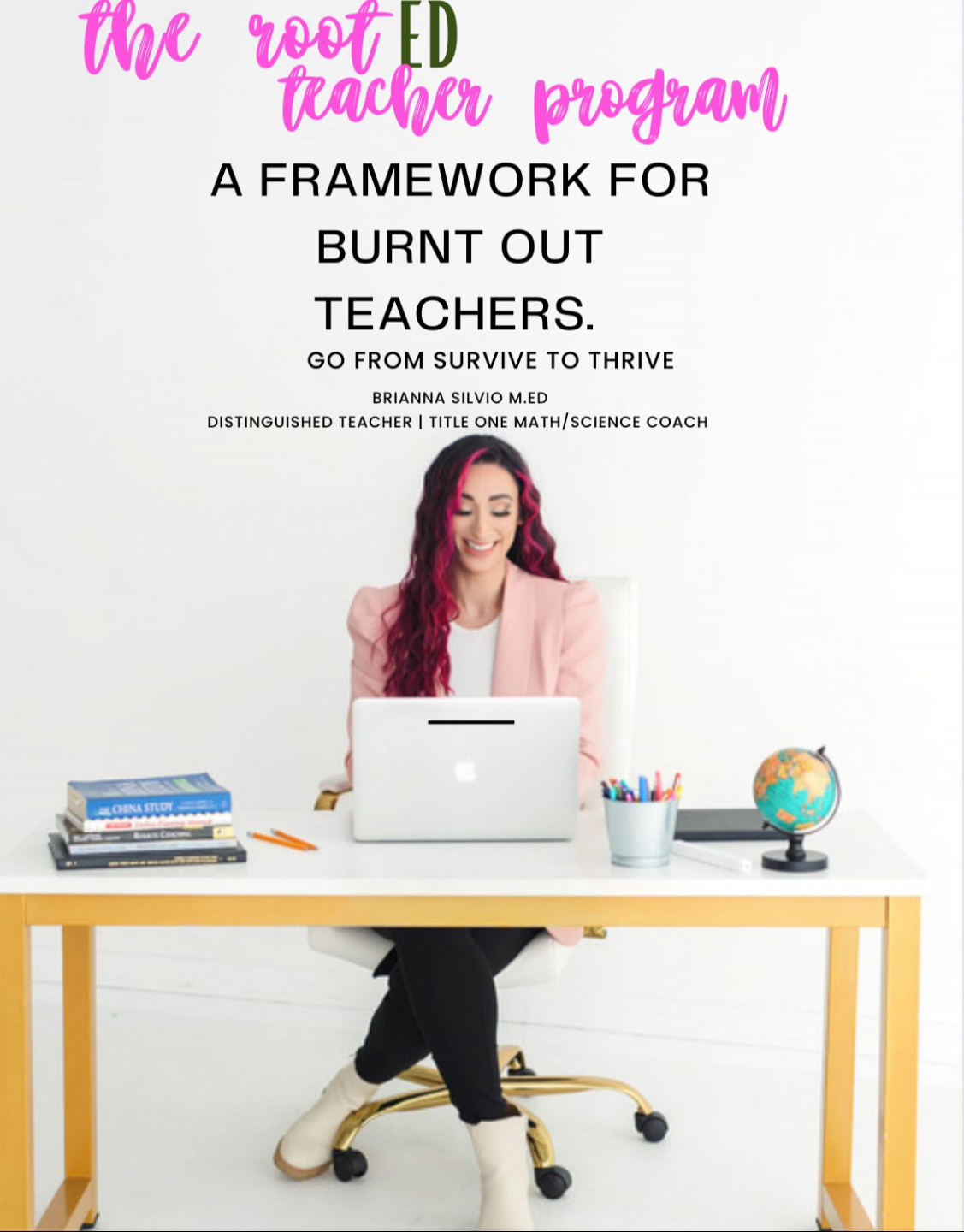 Tired of Feeling Like You're Not Enough?
If you feel like no matter how hard you try, it's never good enough, you're not alone.
Despite growing SEL focused, studies show that 80% of educators still feel like they are falling short with growing workloads. With a staggering majority of the population feeling the same way, it can only mean one thing. Our lifestyle needs to change.
This rootED coaching & community in sustainable teaching & longevity will help you do just that. With interactive lessons for your mind, body, and soul, you'll learn how to disconnect from the world around you and connect and care for the incredible person you are inside. The framework is rootED is your physical, emotional, and mental health.
Because your greatness is needed and valued and you are so worth it!
It's Time To Love Yourself & Teaching Again
With one-on-one guidance and group support, you've found a safe place to dig deep and nurture your inner self.
INTRODUCING...
THE rootED Coaching & Community Program
CONNECT WITH WHAT MATTERS MOST.
Learn how to disconnect from the noise around you and tune in to what's happening in your mind, body, and soul. So that you can teach with joy and determination like never before. We'll teach you how to:
Clear your mind with thought work
Connect with your body through fast and effective all level workouts you can do from anywhere.
Align your vision and teacher value system with your reality and your actual classroom.
It's time to nurture yourself like never before so that you can stay in the profession you adore.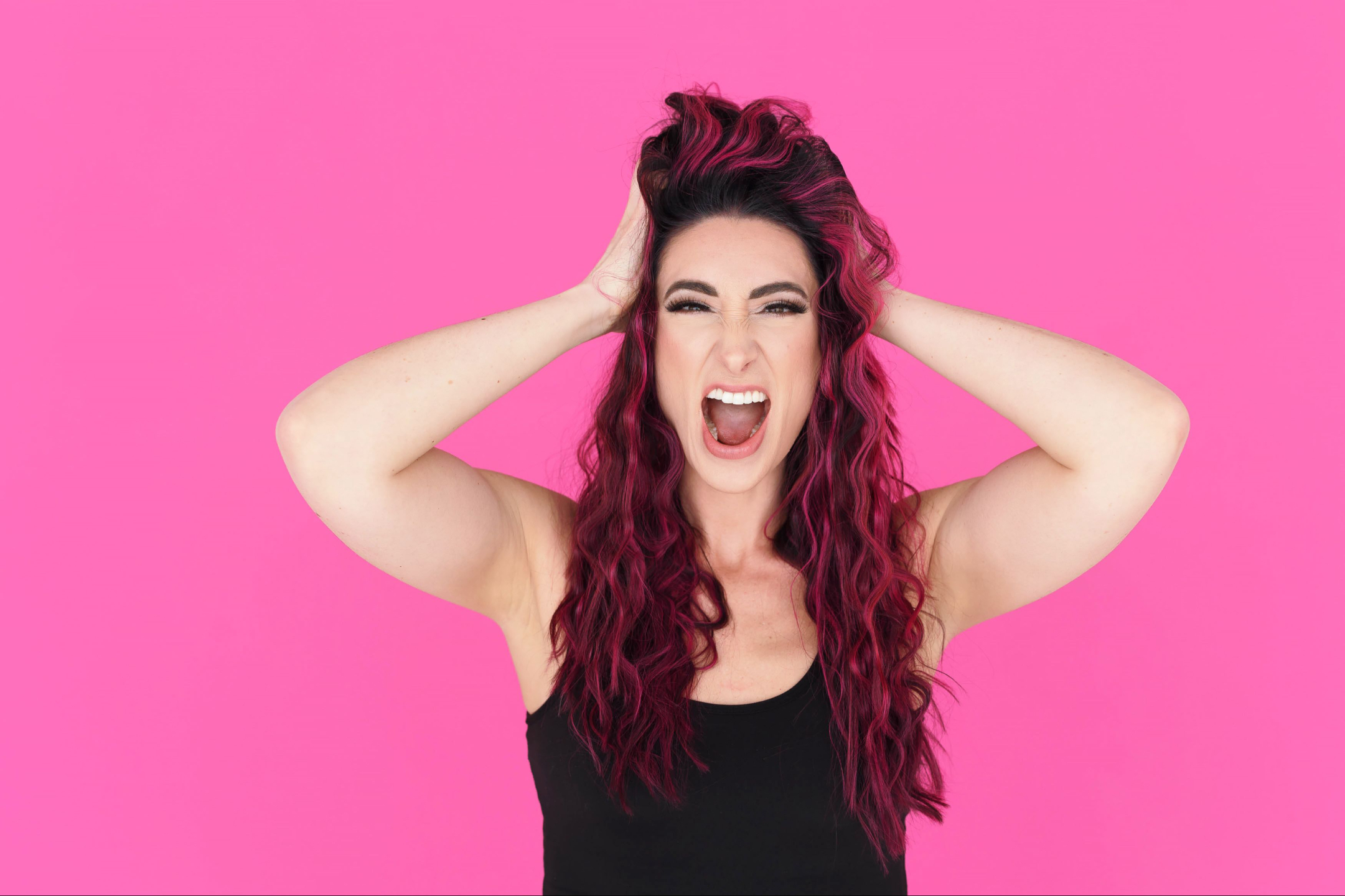 MODULE #1
Mindset. Learn how to manage your toxic thought patterns, drop into your mind and body and really feel what you need to feel to make the next right decision.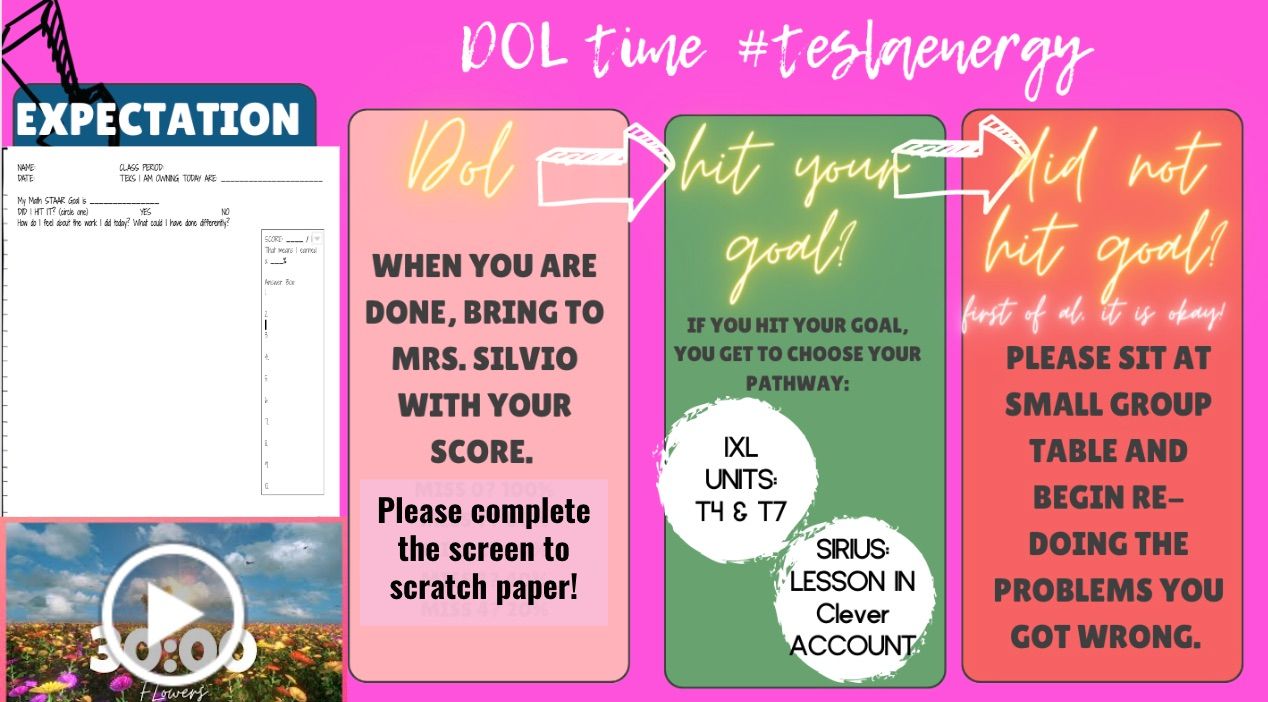 MODULE #2
Class Systems. Learn how to streamline your K-8 classroom so that you stop taking work home.
MODULE #3
Your mental health. Dissect through feelings of overstimulation and disassociation.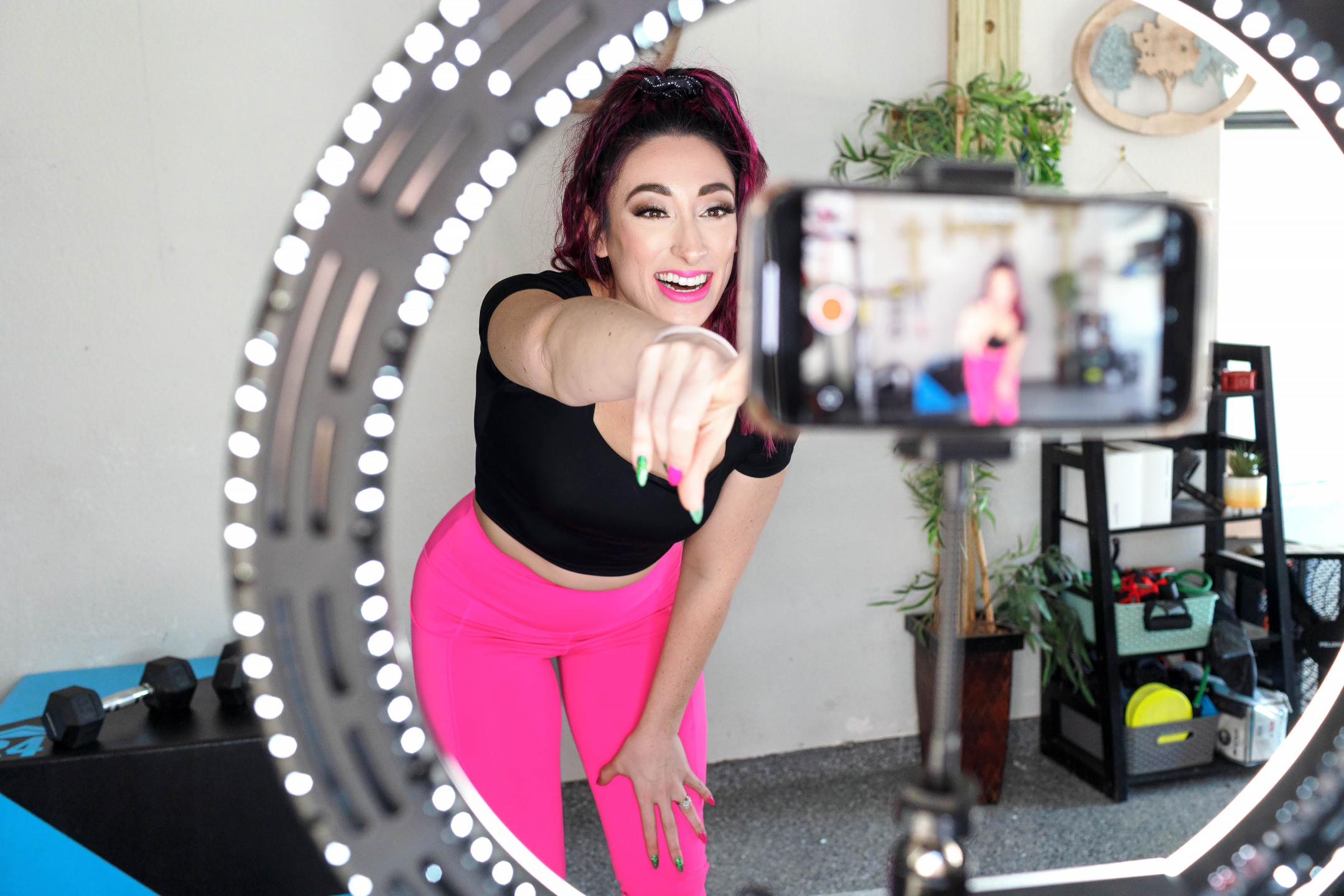 MODULE #4
Your physical health. Bring the inside out. Show up as the most authentic version of yourself every day.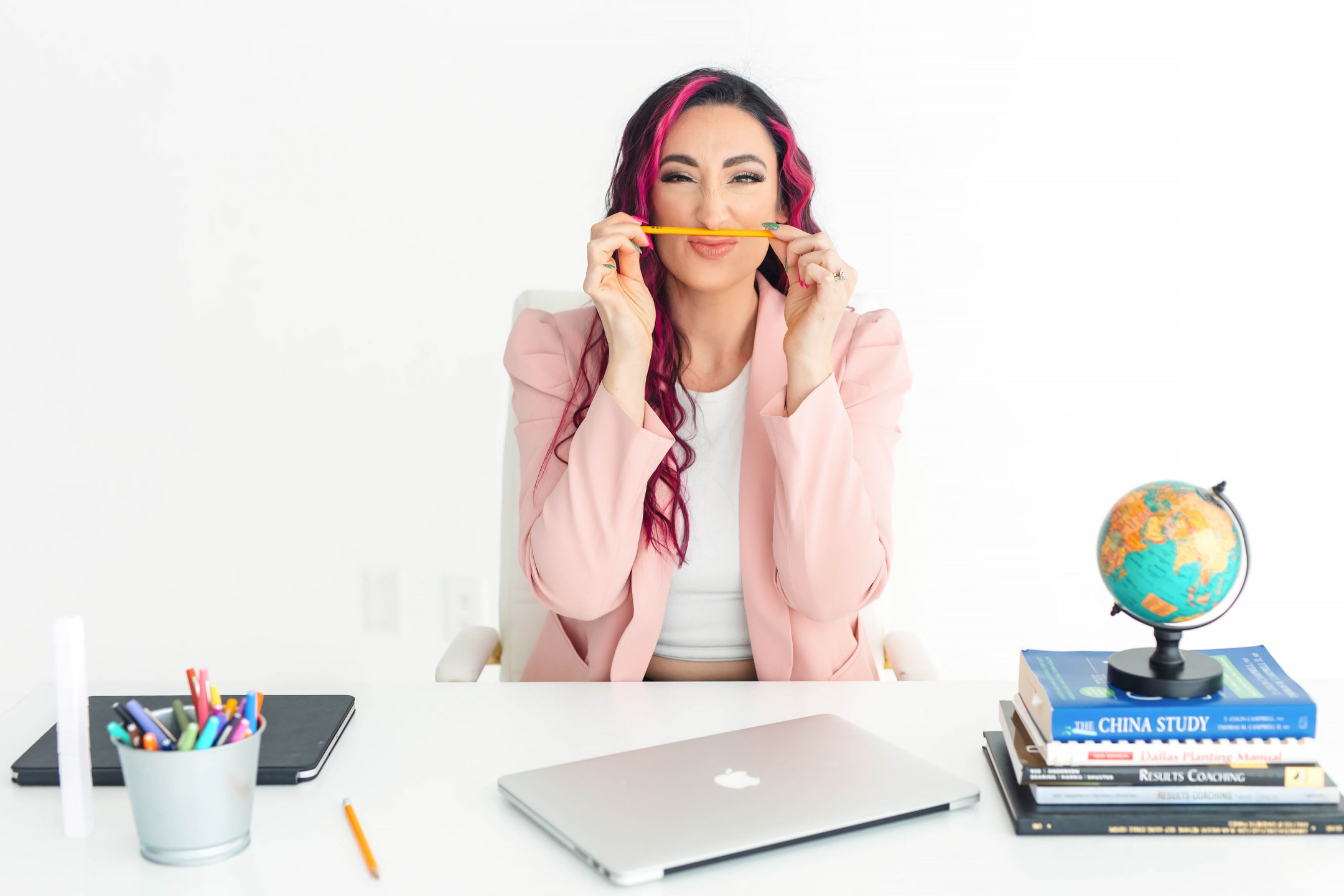 MODULE #5
Turning off hustle culture and turn on your emotional health. Flourish as you turn your page to a sustainable and joyful career, one with boundaries and healthy habits.
MODULE #6
Building your Brand. Leveraging your unique teacher skills to grow a passive income. You are already creating lessons, activities, power points, let me show you how to capitalize on that.
Module 7: GROUP COACHING
Put the techniques you learn into practice during group coaching sessions. This is a safe place where everyone is working on their own teaching journey.
At the start of each coaching call, I will provide a prompt. This will help your thoughts flow. Then when you come to live coaching, you'll be ready to share what came up for you via chat. Most students find it powerful to learn that others are having similar struggles and hear the creative ways they are showing up for themselves amongst the chaos of their lives. Participants will "raise hands" and I will bring someone on screen and coach them live. This transformation is available to ALL that listen and watch, because your concern or question is another educators as well.
We can't wait to connect and grow with you!
I'M BRIANNA.
I started rootED because I ...
radically believe in teaching the WHOLE child and supporting the WHOLE teacher.
I spent the beginning of my 12 years in education in a constant state of:
overwhelm

exhaustion

overstimulation

being in a steady state of "triggered" or "activated"
This became my normal. Those feelings & experiences are NOT normal.
What was worse is that I was being rewarded for this behavior. My students were making exceptional academic gains, & I became a "distinguished" teacher with a state recognized title. Except, I was dying inside.
I quickly learned that if I wanted to remain a teacher, I would have to change my day to day experience.
Although I NOW have excellent balance with my teaching and coaching career and my home life, it has not always been easy.
I was hospitalized for "medically unexplained" reasons which was later diagnosed as
Exhaustion

Celiac's Disease

OCD

Panic Attacks
in 2017. My mental health team believe the level of stress of which I operated under; triggered these conditions.
So I made a huge shift in my career...
I used my background in fitness, nutrition and overall life wellness to help me develop a classroom framework.
It focuses on creating and holding space for the challenges educators and their students face every single day.
This is not a specific set of systems or activities, there is no magic wand... this is an energy from which you teach and live your life.
That framework trademark is PEMs Healths.
Physical Health
Emotional Health
Mental Health
---
In my experiment, I learned that not only did I have phenomenal work/life balance, I also created habits that led me and my team to a more fulfilling career as teachers without sacrificing high quality instruction... in fact, all of our test scores and student experience surveys went up by a minimum of 23% and expanding to 100% of growth and we are ALL THRIVING WHILE IT HAPPENED! I knew I needed to take this world wide.
IS THE rootED Teacher Course & Community RIGHT FOR YOU?
Do you experience:
- High levels of stress and burnout due to long working hours and emotional labor required in teaching, leading to physical and mental health problems such as exhaustion, anxiety, depression, and even heart disease.
- Overwhelmed by heavy workload and constantly changing demands from students, parents, administration, and society, making it difficult to prioritize self-care and find time for rest and relaxation.
- Feeling undervalued and under appreciated due to low salaries, lack of recognition, and negative public perception of the teaching profession, leading to a sense of disillusionment and cynicism.
- Isolation and lack of support from colleagues and superiors, as well as limited opportunities for professional development and growth, leading to a feeling of stagnation and boredom.
- Balancing work and personal life, especially for those with children or caring for aging parents, can be a source of stress and guilt, leading to difficulty in achieving a healthy work-life balance.
If so, then the rootED course & community is definitely for you.
We'll help you tune out the world around you and break down your walls. Once you've gotten to know and love who you are on the inside, we'll teach you how to nurture and protect that person as you go through your daily teaching life.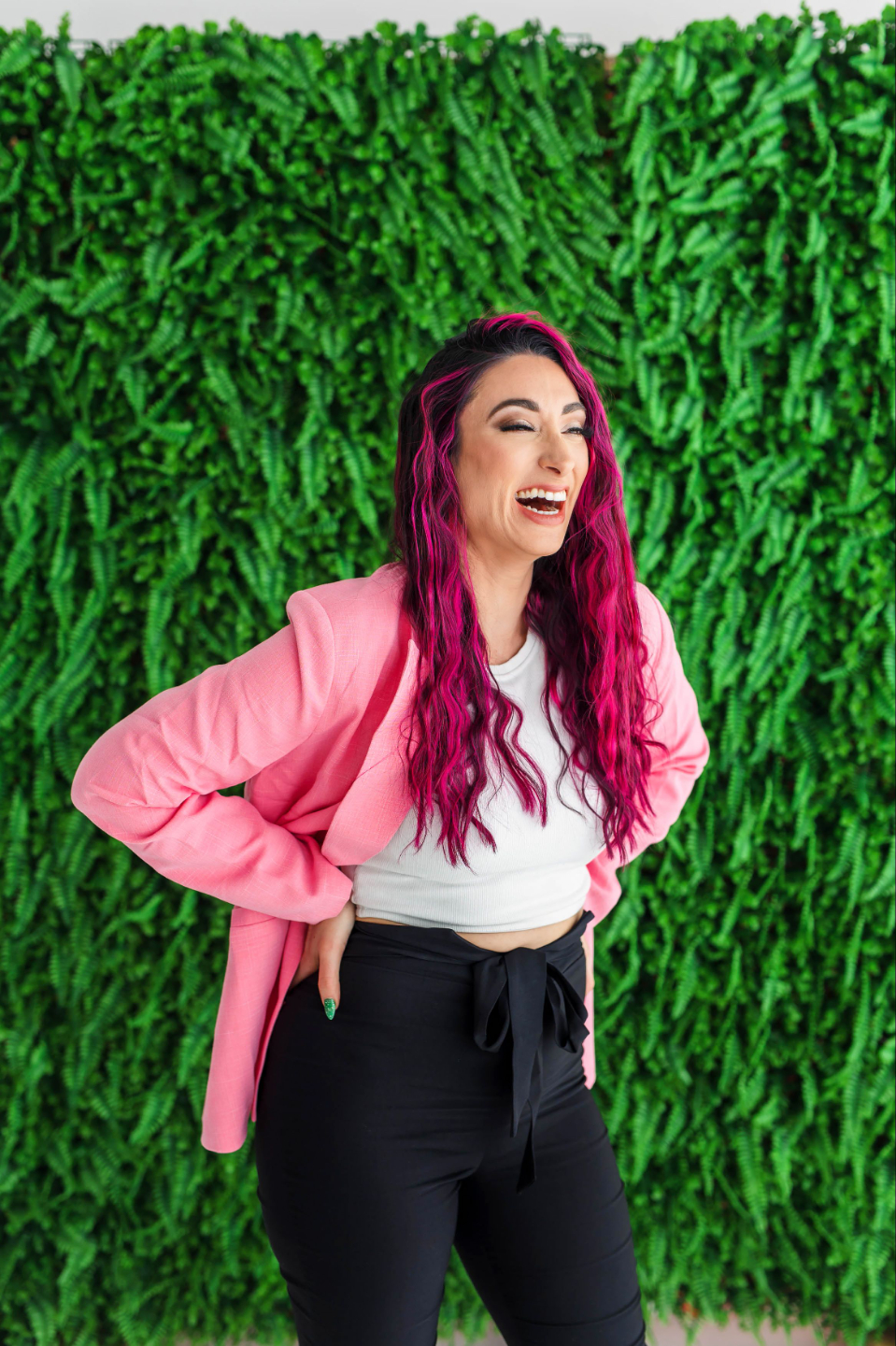 14-DAY MONEY-BACK GUARANTEE
If you aren't completely satisfied with the rootED Teacher Course & Community let us know within the first 14-days for a full refund. No questions asked.
Are my results guaranteed?
Can I share course info with a friend?
Do you have any incentives if I refer a friend?
How many people will be in each group coaching session?
I need more one on one support, how can I get that?